Adorable Australian Labradoodle Puppies For Sale
Reservations for our affectionate labradoodle puppies for sale
Our most recent labradoodle puppies for sale were from Tara, and although these are fully reserved you can follow their development on Instagram.
However we are taking reservations for upcoming litters for sale from Naboo and Swift. Current waiting time for a puppy from a future litter is 5 to 8 months depending which litter. There are pictures of some of their previous puppies on this page.
Australian Labradoodle Puppies for Sale
Looking for Australian labradoodle puppies for sale? Let us help by providing you with more than just a puppy, by raising the ultimate companion.
Our focus is much more on the training and preparation of what is already an incredible breed making these Australian labradoodle puppies for sale unsurpassed in their readiness to fit into your life. I will explain in more detail some of their training below. 
Many people buy from me as much for this extra investment as for the breed itself, so often there is a waiting list ,and you may have to wait a few months. 
Current waiting list time is 6-12 months. Call or contact us now to find out more and reserve a puppy.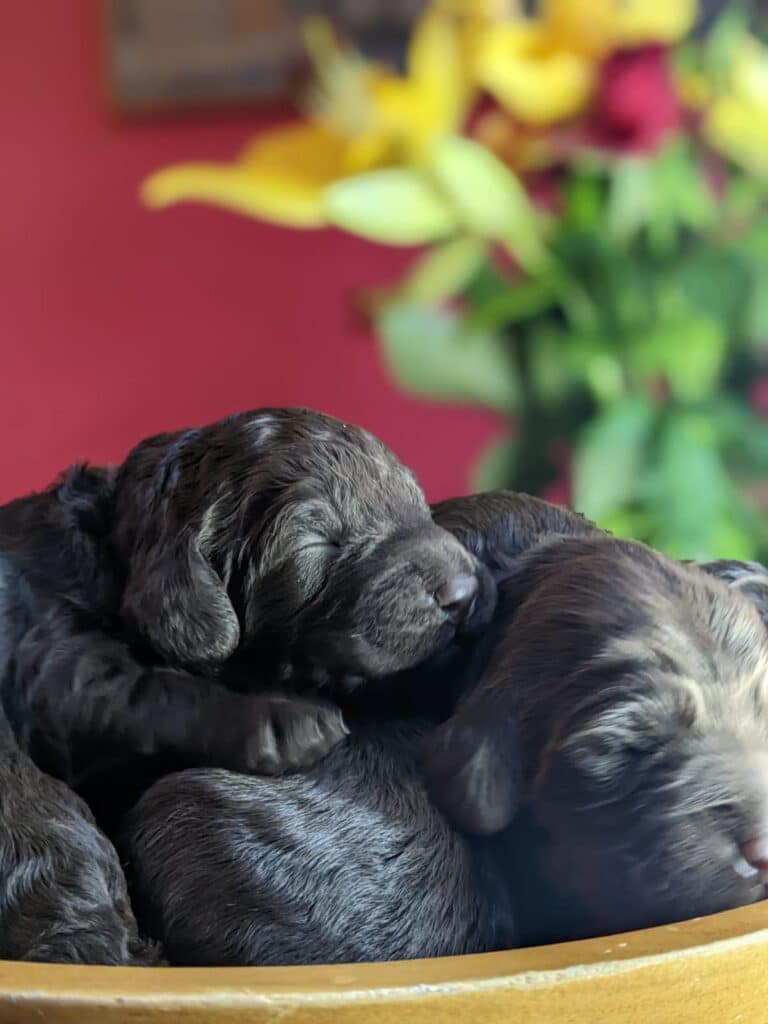 Inquire about our Australian Labradoodle Puppies for Sale
Please fill in the contact form below, and tell us more about your environment, needs and desires. We will see what Australian Labradoodle puppies for sale we currently have ,or litters we are planning that will be a perfect match. Or just contact us with any questions or for more info.
As well as Australian Labradoodle puppies for sale we offer…
Having started investigating Labradoodle puppies for sale, you have begun the first step to enriching your family and life. As we adore all our puppies that we place with loving families, we want to make sure we have done everything to establish the perfect match, both for you and for the puppy.
With this in mind we commit wholeheartedly to preparing the puppy for a straightforward and successful transition into your family life.
With this in mind we do so much more than just offer you a puppy, read on for a glimpse.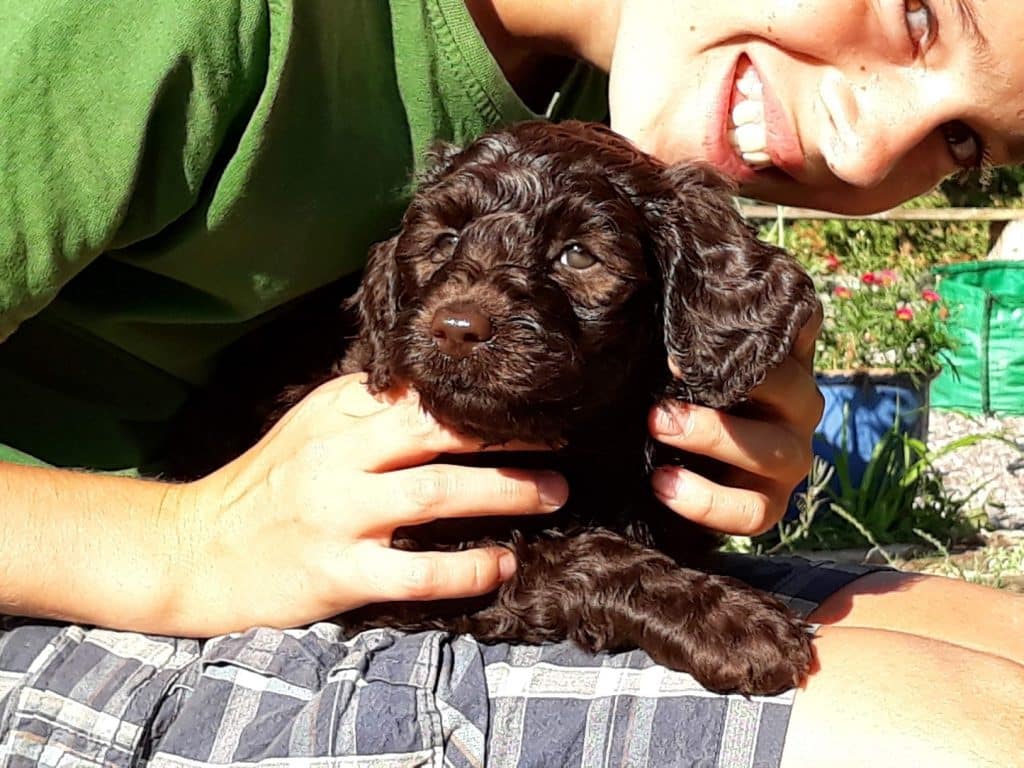 It might not be what is at the top of your mind when searching for labradoodle puppies for sale, but I have had many families who have had a real hurdle toilet training their previous puppies. 
They typically describe standing for a long time outside waiting for their puppy to toilet with no success only to come in and them go straight away inside, often on a rug. 
If this describes you, I hear you and understand and applaud the patience and persistence you showed in the sometimes many months it took to overcome this challenge. 
This is something caused by early rearing methods in the breeder's home. They are not bad breeders, but have probably just used puppy pads inside, therefore this is what the puppy is used to and this can be hard to overcome. We overcome this in two ways. 
Firstly, we litter train the puppies, this teaches the idea that there is a specific place for the toilet, and teaches preference for a texture which is more similar to outside and less similar to mats inside.
Secondly, we also take them outside regularly, so they are comfortable with toileting on grass and stone. Simple measures, but they make a massive difference.
They still need to learn in your environment, but this is easy with strategic use of a litter tray near the door you want them to go out of, this then acts as a signal to go outside which is easy for you to pick up on and reward them for.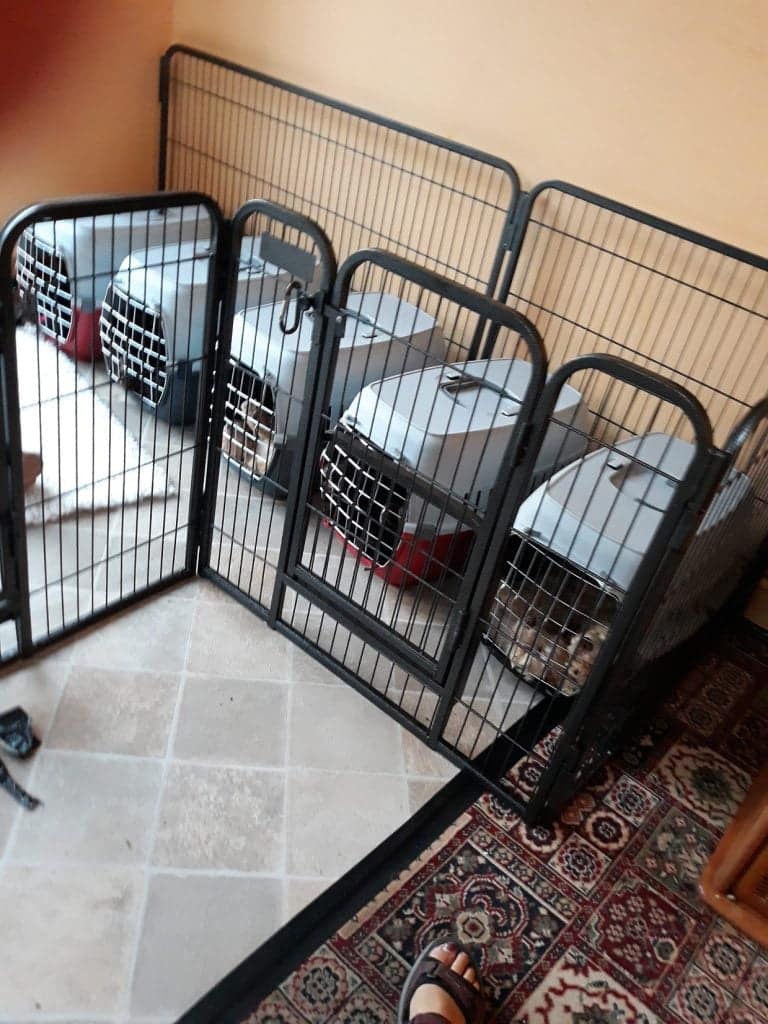 Another reason people Choose me After Looking Perfect Labradoodle puppies For sale is That my puppies are known for settling so quickly into their new homes and routines.
Sometimes they have had a puppy before that cried and was very unsettled for the first few nights, and not happy to be in a crate or pen.
This made it difficult to manage an overtired and biting puppy, or when other family members such as young children needed a break from the puppy, or just when they needed to get jobs done and keep puppy out of mischief and safe at the same time. 
We have set the ground work in place for you to make all these things easier. From three weeks old there is a crate in their pen with the comfiest bed. By five weeks all comfy beds are in crates and they can choose to go in and out.
From six weeks they have at least one meal a day in the crate with the door shut, another happy experience, and when finished they can ask to come out or have a special bone to chew if they stay in. By this time the door is shut, but I sit next to them to let them out whenever they ask.
In the last week they sleep in the crates with the doors shut at night, first in groups so they are not afraid, then by the last three nights they sleep alone with clothes you send to get used to your smell. 
We find this method usually has puppies choosing their crate as a safe and familiar place, and sleeping settled from their first night with you in their new homes.
A Strong start in Training and socialisation
We have listened to you, and the problems as well as joys you have had either with previous dogs you've owned or specific desires you would love in your next puppy companion.
We have tailored our program with your needs in mind. We know that if we help you, we are also helping our labradoodle puppies for sale, who we love, to settle well and therefore have a smooth and happy start in another family.
"My last puppy peed everywhere and it took months to toilet train" our solution is the special strategic toilet training program mentioned above
"My last dog was awful on a lead, or would run away when you tried to put a lead on, or would growl if you touched its collar" 
our solution we address all these things with specific exercises. From the start with our labradoodle puppies for sale we handle their collar, and treat for having it touched, we also clicker train to heel walk and start early lead walking, all you have to do is keep up the training.
"My last dog was hard to train" 
our solution our labradoodle puppies for sale have the head start of being a breed that love to learn and train, however, we add to this instinct by clicker training. Our puppies don't just do what they're told if you train them, but also love to work out what you would like them to do. 
You can just train them the basics, we will have started most of those, or take them to high levels of obedience/ sport/agility/scent or trick training if you put the work in and make it fun, they will love to learn for the rest of their lives.
"My last puppy…..chewed everything, dug up the garden, acted crazy…." Whatever your issue was,
our solutions are to give a good start in training, teach settling activities (chew toys and snuffle mats) teach you how to supervise your puppy and have started crate training.
Supervision and appropriate use of crates, tethering, chew toys, and scent work can manage most of this puppy behaviour. You need to do the work, but we provide a solid foundation for you to succeed, and then support you in the process.
We have trained our labradoodle puppies for sale in the basics, but this breed is eager to learn more things, especially because they want to please you. Consequently, this means that you will need to invest in your dog and train them. Only then can you assure yourself of getting a perfect new family member. But do not worry, we will guide you through this rewarding process. You will become a lifetime member of our community, and we will always be at your service with advice on how to deal with your dog. You can always count on our support. Especially when you wind up facing challenges, we will be there for you.
If you want to find out more about our Australian labradoodle puppies for sale contact us here.
 Although we have no puppies currently available, here are some pictures from previous litters. All our Australian labradoodle puppies for sale will have been microchipped and wormed at 3, 5 and 7 weeks. They will have been health checked just before going to their forever homes and if with us for more than 8 weeks will have had their first vaccines. 
They will have 4 weeks Pet Plan insurance, lifetime genetic health guarantee for serious conditions, 4 weeks plus of one to one puppy training including toilet, crate and basic puppy skills (sit, eye contact, down, heel walking, early lead skills, touch, leave, clicker games) and also have followed a comprehensive socialisation program. Check out our instagram to see some of our work. Truly family reared to fit in with your home. For more information contact us.
Previous Labradoodle Puppies For Sale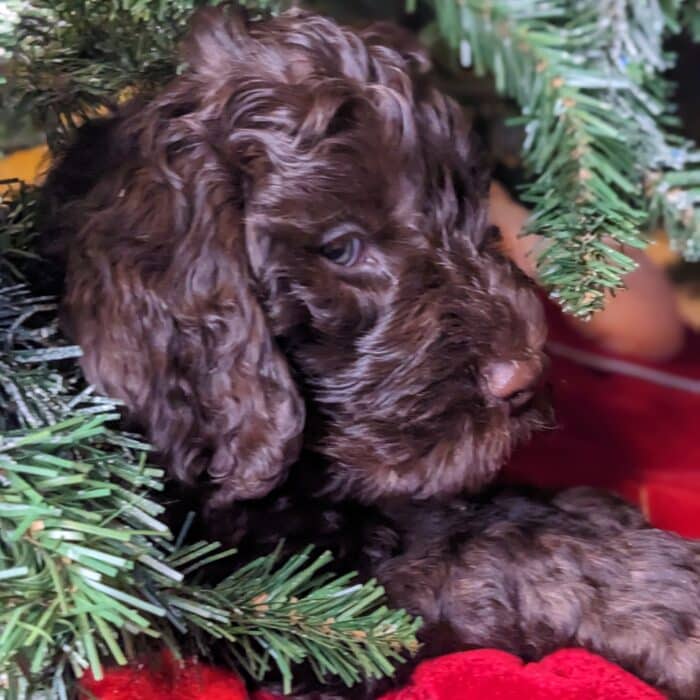 Australian labradoodle Puppy Tumnus, Tara's litter Nov 22
Chocolate coloured Tumnus is eager to seek out human companionship and has a soft, wavy coat. He is calm and confident, equipped with a people-loving demeanor which makes him perfect as a family dog.
 As well as being sweet and affectionate, he is progressing well with his training. He is inquisitive, always sniffing around for new adventures and he has a resilience which makes him easily adaptable.For more pictures of Tumnus click the link below.
Australian Labradoodle Puppy Otis-Pattertwig, Tara's litter Nov22
Pattertwig stands out because of his curly hair. Lively and energetic, ready to play yet loves to climb on a lap for a snooze. His coat makes him very suitable for allergy sufferers since curls are the most hypoallergenic of hair types. 
He is a full of life and incredibly playful – always up for a game. His dark, wavy fur gives him stunning teddybear look. For more pictures of Pattertwig click on the link below.
Australian labradoodle puppy Reepicheep, Tara's litter Nov 22
This is a small puppy with a big personality. With an adorably curly coat, he is spunky, fun loving, playful and affectionate. Enthusiastic and curious about life, he has a self confidence which means he adapts to new situations with ease.
 If you want to add a family member with a real sense of adventure as well as being very trainable, Reepicheep is a perfect fit. Charismatic and energetic, he's bundle of fun. For more pictures of Reepicheep see the you tube link below
Australian Labradoodle Puppy Leah-Narnia, Tara's litter Nov 22
Puppy Narnia is the only girl we have left. She has a soft, silky coat which will be easier to manage than a curly coat one. She is very sweet natured and quick to learn, as well as friendly, calm, and playful. 
Bright eyed and loveable, she would be a loyal and devoted family member. She will be a good sized medium and her gentle, open face is a real heart warmer. For more pictures of Narnia please click the link below.
Australian labradoodle puppy Paco-Ash (Naboo litter June 2022)
Paco-Ash was a lively energetic puppy, who now lives a fun and active life near the beach, enjoying as well as walks by beach and woods, trips to cafes and a friendship with the family cat. A true joy and delight to his family
Australian labradoodle puppy Koa, Naboo's litter June 22
Puppy Koa a gentle, outdoor loving puppy, who has brought joy to his forever home